Your $3 per-person admission includes the film and all the popcorn you can eat, and is gratefully appreciated. Every dollar raised goes directly toward the costs of putting on the series.

Metered street parking is free after 5pm, and many restricted parking spots are not restricted after 5pm - please check the signs, though!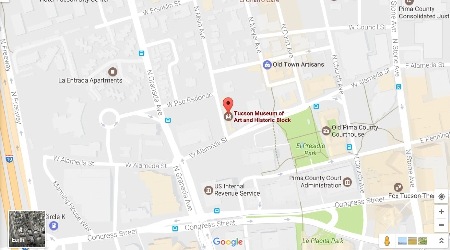 In May 2017 we moved to the plaza of the Tucson Museum of Art, 140 N. Main Avenue.

White plastic chairs are provided, however you are welcome to bring your own lightweight lawn chair.

Well-behaved dogs are allowed, and owners are expected to clean up after their dogs, and to remove their dogs if any altercations happen, or when asked to. If there are too many incidents of growling or barking or snapping, dogs will no longer be allowed. Please don't ruin it for everyone!

It's up to you! Parents are expected to use their own discretion when bringing children. The film doesn't start until 7:30pm, when the sun goes down. Links to information about each film are provided on the website, and we do sometimes show classic films that some parents would not want their children to see, for violence, language or sexual content.

The weather is of course unpredictable everywhere, but in Tucson it's even more so! It can be pouring rain at 6pm and beautiful and cool and sunny at 7. Under most circumstances, we wait until 7pm to decide whether or not to cancel the movie. If you are a Twitter-er, you can follow CinemaLaPlacita on Twitter, and receive an update. You can also call the hotline at 326-5282 to hear a recorded message. The message will be updated at 7pm, so call just after then.